Application Engineer (m/f/d)
Customer services - metrology
Are you an expert in metrology who likes to combine your technical knowledge with your taste for people?
Our Customer Services department is looking for a person to provide technical support to our customers in data acquisition and processing projects. This is a job that does not know routine, and that, as an expert, will also lead you to train customers and colleagues on Creaform's products and software.
If you wish to take on new challenges and associate your talent with a passionate and determined team, join Creaform, we will have fun working together.
In this role, you'll get to :
Provide training on Creaform products and software;
Take charge of application projects (3D scanning, quality control, reverse engineering) for Creaform's customers;
Act as a reference for Creaform's product line and software solution for strategic partners (usage and knowledge) and support internal customers in their operations
Assist customers with application issues;
Your projects will lead you to :
Contribute to the development of our future innovations via testing (functionality testing, product reliability, etc.) and your suggestions for improvement;
Work closely with the technical support team during busy periods to achieve performance targets (first line troubleshooting, customer support, application support).
Travel regularly across America (50% of your time).
You have the right profile if you:
Have a degree in engineering (technical or bachelor) or relevant experience;
Can communicate perfectly in English and French. Spanish is an asset;
Are an autonomous, organized, resourceful person with learning abilities;
Have analytical, problem solving and decision making skills;
Have an interest in sales and customer service;
In exchange, we offer you:
The chance to work in a stimulating work environment within a human team that knows how to combine work and pleasure;
The opportunity to develop your skills and expertise;
The pride of working in a successful technology company, open to the world;
Flexible working hours;
A generous telecommuting policy, 100% flexible;
A salary and growth potential that meets your expectations;
A wide range of social activities, and much more!
A culture of innovation (creaform3d.com)
Consider applying even if your skillset is not a perfect match. We believe our individual background and experiences, paired with passion, can go a long way.
Why choose Creaform
As a subsidiary of AMETEK Inc, a leading global manufacturer of electronic instruments and electromechanical devices, Creaform is recognized internationally for its cutting-edge technologies and R&D excellence. Although we are developing our market on a global scale, our work environment preserves the entrepreneurial spirit and dynamism of a start-up company.
Convinced that our ability to innovate endlessly is fueled by the diversity and the right to be different of our employees, and determined to establish and maintain a diversified and representative workforce, Creaform fully subscribes to the principle of employment equity.
In particular, we are committed to providing equal employment opportunities in accordance with the provisions of the Quebec Charter of Human Rights and Freedoms and the Canadian Charter of Rights and Freedoms.
AMETEK is a highly technical manufacturing company made up of 40 industry leading companies. Our mission is to solve our customers' most challenging problems with differentiated technology solutions. We employee 18,000 colleagues in more than 30 countries. AMETEK (NYSE:AME) is a component of the S&P 500. Visit www.ametek.com for more information.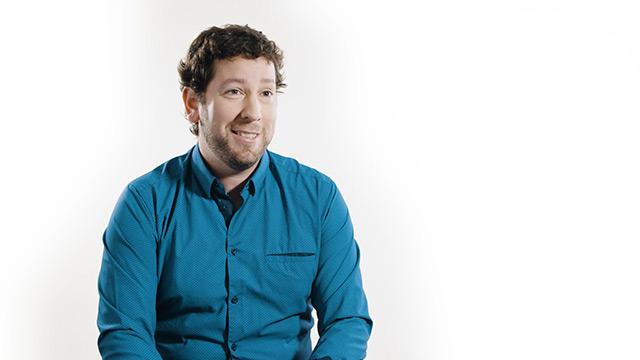 We work in a lively and dynamic high-tech environment where everything evolves at a rapid pace and everyone is extremely motivated.
Félix Savard
Finance Director
Canada
Think you have what it takes?