Business Development Manager, Energy & Aerospace MRO (m/f/d)
Do you know what a constantly growing international company needs to maximize the sale of products and solutions in the Energy & Aerospace MRO verticals?
Someone like you, who demonstrates strength in business development, prospecting, and customer relationship management skills to develop credibility, enhance the company's image and increase brand awareness.
How will you do that? By interacting with existing and new accounts in the Energy & Aerospace MRO verticals to prospect current and hidden needs that could be fulfilled by Creaform products, either off the shelf or packaged as part of a custom application solution. A strong emphasis is given to the creation of new business opportunities.
Patrice, your future manager, is known for his negotiation skills and enthusiasm. He has been working at Creaform for 16 years now, first as an application engineer then managing Creaform's business in Asia for 11 years, and more recently leading the international business development team.
Never Stop Innovating, a motto that represents the core values of Creaform, from its beginning in 2002. To this day, Creaform continues to develop, manufacture, and sell cutting edge 3D portable and automated measurement technologies that provide innovative solutions for applications such as 3D scanning, reverse engineering, quality control, non-destructive testing (NDT), product development, and numerical simulation (FEA/CFD). Its products redefine the boundaries in a variety of industries, including automotive, aerospace, defense, consumer products, heavy industries, manufacturing, oil and gas, power generation, research and education.
Here is what we offer:
Diversity and variety of projects in a multitude of industries
Ongoing training to support you in your career progression
Recognition of your ideas
A caring environment that encourages personal and professional growth
Diversity and inclusion; there is no one-size-fits-all thinking
Wide range of benefits: competitive salary, group insurance, 401k, competitive vacation policy, employee, and family assistance program, flexible work arrangements
We work hard, but we have a lot of fun! We have fun with sports, parties, themed events and more!
To succeed in this function, we will accompany you with:
Excellent onboarding
Training
A mentor
Coaching

A typical day with Patrice and the sales team:
In collaboration with the sales team, gather and share input on market and potential for new applications with Business Development & Product Management Team
Where potential for a custom application is uncovered, take part in the design and go-to market strategy elaboration by acting as the focal point between Product Development, the sales force, and the industry. Once finalized, support the deployment of this application to the sales force
Build, maintain, and ensure deployment of an action plan to maximize market penetration in the Energy & Aerospace MRO verticals, in collaboration with the local sales team, through technical and commercial actions to achieve the sales objective
Act as a Subject Matter Expert for the Energy & Aerospace MRO verticals in the assigned territory, technically and commercially
Develop and maintain a network of contacts and clients within the Energy & Aerospace MRO verticals and build Creaform's credibility within these same verticals
Help the Sales Team through prospecting activities and contribute to the qualification of our solutions in key accounts of the Energy& Aerospace MRO verticals
Take part in marketing activity specific to your assigned verticals. Make presentations at energy & MRO conferences & conventions and write explanatory articles when and where applicable
Excellent fit:
Technical sales experience in the Energy & Aerospace MRO environment
Experience selling NDT equipment
Technical proficiency in portable metrology solution
Willing to travel on a regular basis in assigned territory
Strong networking abilities
Valid driving license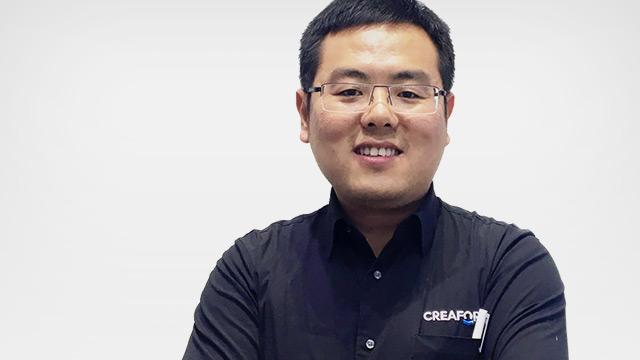 Creaform is the ideal place for people who love challenges and who want to take their talent to a whole new level. From reverse engineering to quality control to education and R&D, the company offers rewarding and enriching experiences you simply cannot get anywhere else.
Robert
Regional Manager
China
Think you have what it takes?