Mechanical Designer
Who we are looking for? A perfect match to fill the position of Mechanical Designer. Join usefulness and enjoyment by participating in large-scale projects with renowned customers while visiting our great province and even sometimes the US. The candidate will be required to work with clients on short, medium or long term mandates throughout the province.
What a typical day with us looks like:
You're in charge of design and 2D and 3D drafting on various CAD software for our customers in various fields such as aerospace, consumer goods, high technologies, health care, recreational vehicles and transportation;
Assist by a team of specialist, you produce CAD designs for any part or mechanical system;
While taking into consideration technical criteria, you use your creativity to design, develop and model technical parts;
You work with the best!
Our perfect match...
Has a DEC in Mechanical Engineering;
Has between 3 to 5 years of experience in a relevant field;
Like mechanical design and technical challenges;
Is a master in at least one CAD software program: Catia V5, Solidworks, Solidedge, Inventor, Creo/Pro E;
Wants to work on developing innovative products;
Is mobile to make short, medium or long term trips within the province of Quebec.
You earn points if you...
Are persuasive;
Are familiar with manufacture process;
Have knowledge in geometric tolerancing;
Have experience in manufacturing sector;
Are enthusiast about mechanical things in life as in work.
In exchange we offer you...
Flexible work schedule because we have family at heart;
Competitive salary and benefits;
Vibrant, ambitious, stimulating and worldwide company;
A solid and unique work team;
The possibility to progress with a variety of projects;
Social activities, and much more!
Consider applying even if your skillset is not a perfect match. We believe our individual background and experiences, paired with passion, can go a long way.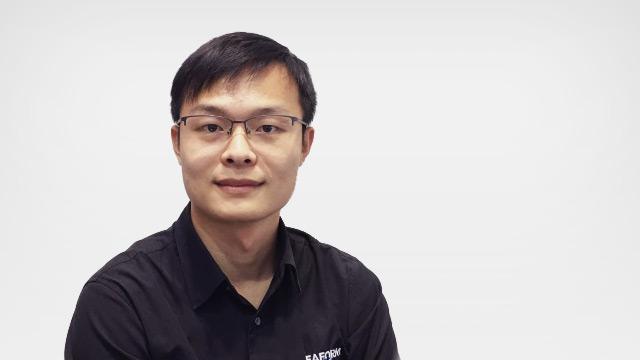 Whenever I am performing demos or product presentations, I always smile when I see the look of amazement on attendees' faces after I scan a product. They have a hard time believing in our solutions' power and performance—and think I've uploaded the data prior to the presentation. Then I scan my hand on the spot. All I hear afterwards is "Wooooow!" Now that's music to my ears! I am proud to be a part of the Creaform team!
Zhenjiang Qiao
Application Engineer
China
Think you have what it takes?