Application Engineer
Irvine, CA, United States
Are you a people person, passionate for all things 3D, engineering and a love for travel that aspires a career to its greatest ambition? Let's talk and get to know each other! We're Creaform, a leading international company in full expansion with a passion for 3D scanning, engineering and reverse engineering—and let's not forget living life to the fullest. We cultivate a collaborative workplace culture that values your contributions, fosters learning and growth, but also makes plenty of room for fun, family, and personal achievement. We're seeking someone who shares our enthusiasm and aspires to create leading-edge 3D measurement solutions for a diverse customer base in the automotive, aerospace, manufacturing, multimedia, and medical sectors.
The primary responsibility for this position is to provide technical expertise to support the metrology services, and the technology sales effort in, but not limited to the US territory. The person will meet and work with customers through a variety of projects and interactions such as conducting sales demonstrations in collaboration with our sales team, providing customer training, realizing metrology service mandates, and providing technical support to our customer base. All while respecting deadlines, quality standards, and the technical specifications required to ensure customer satisfaction. Where you'll be based? A dynamic workplace environment in the city of Houston, TX. Lets' not forget the frequent travel that will open you up to the world within your work activities. If you wish to work for a company in full growth that offers career advancement opportunities, Creaform is for you!
What a typical day with us looks like:
Harness your creativity and people skills to make impactful presentations to potential customers and act as a Creaform resource person.
Draw on your analytical talents to assess customer needs and offer them the best 3D scanning and probing solutions for their requirements.
Perform remote and on-site data acquisition (3D laser scanning and probing inspection) for Creaform customers.
Use 3D data acquisition , post treatment, reverse engineering and inspection software to generate deliverable expected by the client.
Work closely with customers, distributors, and affiliates as well as colleagues to organize training, integration, and project implementation activities using our 3D scanners.
Adapt methods or troubleshoot to resolve problems related to technology use.
Contribute to new technologies development by testing new products and sharing your improvement suggestions.
Help draft and translate technical and training documents.
Our perfect match...
Bachelor's degree in mechanical engineering or related field;
Be willing to travel internationally (about 50%);
Assets:

Experience in 3D scanning & metrology;
Experience in NDT, Oil & gas, pipeline integrity assessment;
Speak Spanish

Strong analytical, problem-solving, and decision-making skills;
Autonomous and resourceful;
Ability to work under pressure;
Strong customer relations skills;
Self-taught
In exchange we offer you...
Competitive package.
Good benefits plan.
Vibrant, ambitious, worldwide company.
You earn points if you...
Experience in 3D scanning & metrology;
Experience in NDT, Oil & gas, pipeline integrity assessment;
Creaform offers career opportunities within a young dynamic team as well as the possibility to progress through multiple interesting and varied projects. We moreover provide a unique work environment, animated by a strong, dynamic team. Joining our team, also translates to many social activities, career opportunities and much more!
Consider applying even if your skillset is not a perfect match. We believe our individual background and experiences, paired with passion, can go a long way.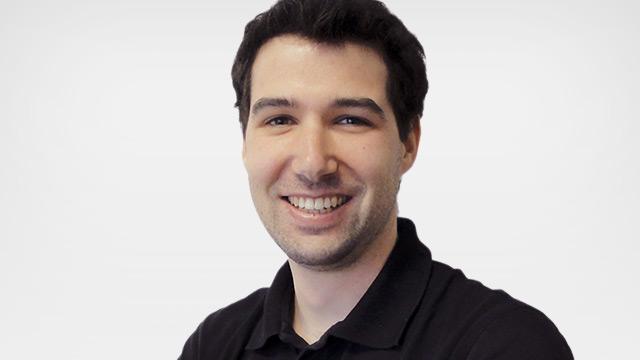 I give trainings on all Creaform products throughout Europe and use them daily in a wide variety of industries, including automotive, aeronautics, and energy sectors. Because Creaform's customers use our solutions for many different applications, application engineers have to be very versatile. I get to face new challenges each week, which makes for a very stimulating job!
Boris Laluc
Application Engineer
France
Think you have what it takes?