Electronic Engineer (m/f/d) - Bromont
Our Creaform Engineering division is looking for an electronical engineer who will have the main responsibility of designing diversified electronic systems that meet customer requirements. Depending on the project, you will participate in product development, from definition to production. You will ensure compliance with applicable system design stadards, laws and regulations. You will work in a multidisciplinary team of engineers and technical designers. If you want to take on new challenges and combinr you talent with an experienced team, do as our 200+ team members do and choose Creaform Engineering.
Your projects will lead you to :
Designing electronic circuits of various complexity in analog, digital, power electronics and programming microcontrollers ;
Simulate the designed circuits and ensure that the design meets the customer's requirements;
Research components and create prototypes for testing and validation requirements;
Analyze the technical feasibility, the level of risk and the manpower required to meet customer requirements;
Analyze the customer's needs to translate them into system specifications and requirements to be met;
Build and maintain the design file including calculations, tests, verifications, validations, costs and approvals;
Work in close collaboration with the client;
Create electrical schematics;
Provide technical support to designers;
Support internal or external customers in the resolution of technical problems;
Characterize electrical performance, develop test methods and test plans and produce reports;
Program Embedded software (Firmware).
You will feel at home if you :
Hold fundamental knowledge of electronic circuit analysis and synthesis;
Knowledge of PCB design software (an asset): Altium, Eagle, Kicad ;
Have a minimum of two years or more of relevant experience in electronics development;
Possess a bachelor or master's degree in electrical engineering;
Is eligible to the Ordre des Ingénieurs du Québec. (Member an asset);
Ability to efficiently use test and validation equipment (Oscilloscope, Frequency Generator, Soldering Station, etc.);
Ability to communicate effectively in a multidisciplinary team;
Have proven interpersonal skills and adaptability (customer relations);
Have a good ability to manage several files simultaneously;
Are able to communicate in French and, if necessary, in English;
Have a very good customer service.
In exchange, we offer you :
Flexible work schedule because we have your family at heart;
Competitive salary and benefits;
Vibrant, ambitious, stimulating and worldwide company;
A solid and unique work team;
The possibility to progress with a variety of projects;
A generous and flexible remote-working policy, even after Covid, when the position allows it;
Gym available for the employees;
Social activities, and much more!
About Creaform Engineering
Creaform Engineering is comprised of quick-thinking experts who are completely committed to making every project a success. Our team works in close collaboration with leaders across all industries, on projects that include product development, industrial design, numerical simulation and industrialization.
Thanks to our experience in the transportation, power sports, aerospace, technology, defence and energy sectors, we're able to tackle every challenge with incredible agility. You can count on our more than 200 experts—your strategic allies—to fully support you in your quest for innovation. For more information about Creaform Engineering, click here!
Creaform is a unit of AMETEK Ultra Precision Technologies, a division of AMETEK Inc., a leading global manufacturer of electronic instruments and electromechanical devices. When you choose Creaform Engineering, you get quality work carried out by professionals within the most demanding turnaround times.
Convinced that our ability to innovate endlessly is fueled by the diversity and the right to be different of our employees, and determined to establish and maintain a diversified and representative workforce, we fully subscribe to the principle of employment equity. In particular, we are committed to providing equal employment opportunities in accordance with the provisions of the Quebec Charter of Human Rights and Freedoms and the Canadian Charter of Rights and Freedoms.
Consider applying even if your skillset is not a perfect match. We believe our individual background and experiences, paired with passion, can go a long way.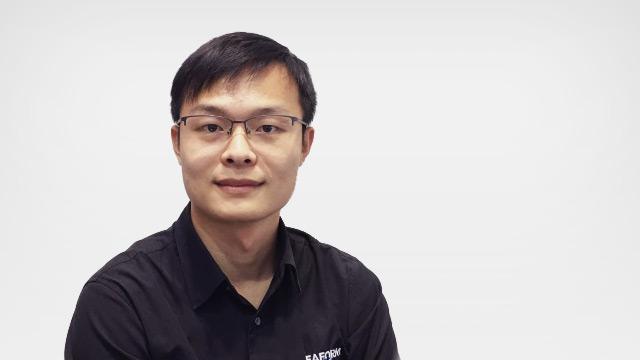 Whenever I am performing demos or product presentations, I always smile when I see the look of amazement on attendees' faces after I scan a product. They have a hard time believing in our solutions' power and performance—and think I've uploaded the data prior to the presentation. Then I scan my hand on the spot. All I hear afterwards is "Wooooow!" Now that's music to my ears! I am proud to be a part of the Creaform team!
Zhenjiang Qiao
Application Engineer
China
Think you have what it takes?