Senior Surface Designer (m/f/d)
Do you want to work for a world-renowned engineering firm on the best innovation projects that will stimulate you and your career?
That's good, because Creaform Engineering needs you and your creativity to create, from sketches or scans, the style surfaces of the various products, advanced surfaces and class A, (eg helmet, recreational vehicle body, vehicle interior, etc.) for our customers and support them in their product development and make them benefit from your expertise!
Francis, your future manager, is known for his availability and listening. He has been working at Creaform for 18 years now, he started like you, in mechanical design, and is now responsible for operations and manages 20 people, soon 21 with you.
To succeed and progress in your career, Francis will accompany you with:
An excellent welcome and integration process;
Training ... a lot of training;
The support you'll need for your development and achieve your goals.
Here's what we offer:
Diversity and complexity of projects in a multitude of industries;
Continuing education to support you in your career ambitions;
Caring environment, encouraging personal and professional development;
Diversity and inclusion are part of our DNA, there are no clones, no single way of thinking, it's our secret recipe that makes us so successful!
A wide range of benefits: competitive salary, group insurance, RRSP with generous contribution from Creaform, competitive vacation policy, employee and family assistance program, telemedicine, flexible hours;
We work hard but we have even more fun (sport, parties, thematic events etc).
A typical day in your new team:
Realize product style surfaces using CAD software (Catia V5) for our customers, in various sectors such as transportation, vehicle electrification, recreational vehicles, heavy machinery, consumer goods, high technology and more;
Control the quality of the exterior styling surfaces of different products;
Do surface reconstruction using STL files;
Supervise the smooth running of the projects under your responsibility and inform the person in charge of the project and his/her team manager of any delays or potential problems;
Validate the quality of the work that is delivered by the team;
Be at customers' homes and support them in their product development;
Work with a multidisciplinary team of passionate experts.
You will feel at home if you:
Are a master of Catia V5 polygon modules (Free Style, Quick Surface Reconstruction);
Have extensive experience (5 to 10 years) in the modeling of Class A surfaces;
Are passionate about design, mechanics and technical challenges;
Have a good knowledge in the constraints of manufacturing parts;
Have good technical knowledge of plastics (an asset);
Enjoy working in the field of product development;
Are mobile for short, medium or long trips.
About Creaform Engineering
Creaform Engineering is comprised of quick-thinking experts who are completely committed to making every project a success. Our team works in close collaboration with leaders across all industries, on projects that include product development, industrial design, numerical simulation and industrialization.
Thanks to our experience in the transportation, power sports, aerospace, technology, defence and energy sectors, we're able to tackle every challenge with incredible agility. You can count on our more than 200 experts—your strategic allies—to fully support you in your quest for innovation. For more information about Creaform Engineering, click here!
Creaform is a unit of AMETEK Ultra Precision Technologies, a division of AMETEK Inc., a leading global manufacturer of electronic instruments and electromechanical devices. When you choose Creaform Engineering, you get quality work carried out by professionals within the most demanding turnaround times.
Convinced that our ability to innovate endlessly is fueled by the diversity and the right to be different of our employees, and determined to establish and maintain a diversified and representative workforce, we fully subscribe to the principle of employment equity. In particular, we are committed to providing equal employment opportunities in accordance with the provisions of the Quebec Charter of Human Rights and Freedoms and the Canadian Charter of Rights and Freedoms.
Consider applying even if your skillset is not a perfect match. We believe our individual background and experiences, paired with passion, can go a long way.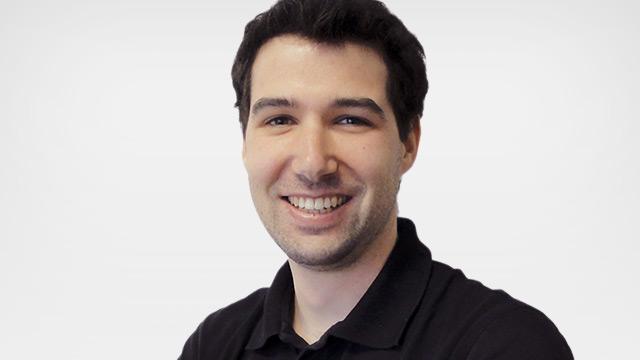 I give trainings on all Creaform products throughout Europe and use them daily in a wide variety of industries, including automotive, aeronautics, and energy sectors. Because Creaform's customers use our solutions for many different applications, application engineers have to be very versatile. I get to face new challenges each week, which makes for a very stimulating job!
Boris Laluc
Application Engineer
France
Think you have what it takes?