Senior Industrial Engineer
Completed
Who we are looking for ? The perfect candidate to fill the position of Industrial for the Creaform Engineering division. Work with internal customers, project teams, maintenance technicians and suppliers to redefine a truck assembly line, with more than 20 stations, to achieve faster bonding time. The candidate will be required to work with clients on short, medium or long-term mandates, as well as frequent travel, in the United States.
What a typical day with us looks like:
Coordinate all tooling deliveries : review tooling and equipment requests for overall progress, report progress and receive prioritization or time plan changes, manage workload amongst Tooling Engineers who are assigned to the project ;
Gather inputs from production and work cross functionally to develop tooling ;
Develop scope of work documents for requesting quote for tooling and equipment solutions from approved vendors ;
Work with internal and external fabricators to manufacture fixtures and assembly aids ;
Work with internal and external construction trades contractors for installation of utilities (electric, compressed air, data, etc.) for tools and equipment ;
Work with internally developed tool request system to provide status of tool development process ;
Organize design review to ensure new equipment design incorporates best practices from previous implementations.
Requirements
Is available to move to the United States or travel every two weeks for the first six to eight months of the project ;
Fluent in both English and French ;
Holds a BACC in Engineering ;
Has about 10 years of experience in the field;
Has experience in the following software: Catia, Creo, AutoCAD, Sketchup, ENOVIA, PDMLink and the Office suite; Microsoft Excel, Power Point, Project, SharePoint ;
Has knowledge of 2D/3D drawing;
Has project management skills;
Is a natural born leader with communication and interpersonal skills;
Is Familiar with engineering, manufacturing, line balancing and efficiency optimization tools concepts; process-oriented;
Has Strong analytical skills and a proven focus on process and lean manufacturing concepts;
Master the calculations of return on investment.
In exchange we offer you...
Flexible work schedule because we have your family at heart ;
Competitive salary and benefits ;
Vibrant, ambitious, stimulating and worldwide company;
A solid and unique work team;
The possibility to progress with a variety of projects;
Social activities, and much more!
Consider applying even if your skillset is not a perfect match. We believe our individual background and experiences, paired with passion, can go a long way.
Make a spontaneous application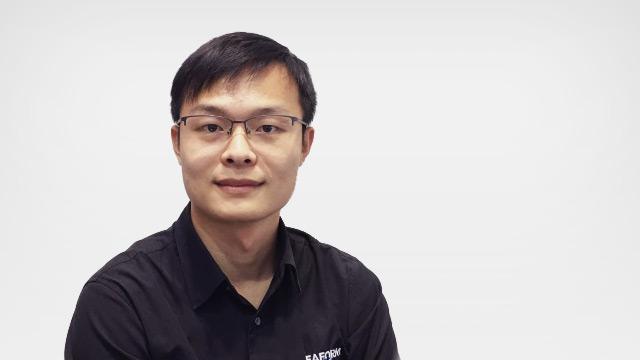 Whenever I am performing demos or product presentations, I always smile when I see the look of amazement on attendees' faces after I scan a product. They have a hard time believing in our solutions' power and performance—and think I've uploaded the data prior to the presentation. Then I scan my hand on the spot. All I hear afterwards is "Wooooow!" Now that's music to my ears! I am proud to be a part of the Creaform team!
Zhenjiang Qiao
Application Engineer
China
Think you have what it takes?