Trainee, Mechanical Designer (m/f/d)
Completed
Our Creaform Engineering department is looking for an intern who will assist our team this winter.
Whether you have a material, mechanical or software profile or a bit of all, come share our passion: we have a stimulating internship to offer you!
Your projects will lead you to :
Respond primarily to the needs of customers in terms of design and layout (2D and 3D) on various CAD software;
Work on challenging projects in various fields (transportation, aerospace, automotive, and many others!);
Design all types of parts (CAD) and/or mechanical systems;
Respect the technical or other criteria established by the clients and take into account the manufacturing constraints of the parts to be modeled, developed or designed.
You will feel at home if you :
Are a student in mechanical engineering;

Have basic knowledge of welding, geometric tolerancing and sheet metal processes (an asset);

Have basic knowledge of one or more manufacturing processes (an asset);

Have basic knowledge of mechanics (an asset);

Have a minimum of experience with CAD software (Catia V5, Solidworks, Solidedge, Inventor, etc.) (an asset);

Are organized and structured;

Have a good team spirit.
In exchange we offer you :
The chance to work in a stimulating work environment within a strong, inclusive and passionate team;
The opportunity to develop your skills and expertise;
A flexible work schedule;
A dynamic, human and stimulating company, open to the world;
A great community of interns and young employees;
A wide range of social activities, and much more.
About Creaform Engineering
Creaform Engineering is comprised of quick-thinking experts who are completely committed to making every project a success. Our team works in close collaboration with leaders across all industries, on projects that include product development, industrial design, numerical simulation and industrialization.
Thanks to our experience in the transportation, power sports, aerospace, technology, defence and energy sectors, we're able to tackle every challenge with incredible agility. You can count on our more than 200 experts—your strategic allies—to fully support you in your quest for innovation. For more information about Creaform Engineering, click here!
Creaform is a unit of AMETEK Ultra Precision Technologies, a division of AMETEK Inc., a leading global manufacturer of electronic instruments and electromechanical devices. When you choose Creaform Engineering, you get quality work carried out by professionals within the most demanding turnaround times.
Convinced that our ability to innovate endlessly is fueled by the diversity and the right to be different of our employees, and determined to establish and maintain a diversified and representative workforce, we fully subscribe to the principle of employment equity. In particular, we are committed to providing equal employment opportunities in accordance with the provisions of the Quebec Charter of Human Rights and Freedoms and the Canadian Charter of Rights and Freedoms.
Consider applying even if your skillset is not a perfect match. We believe our individual background and experiences, paired with passion, can go a long way.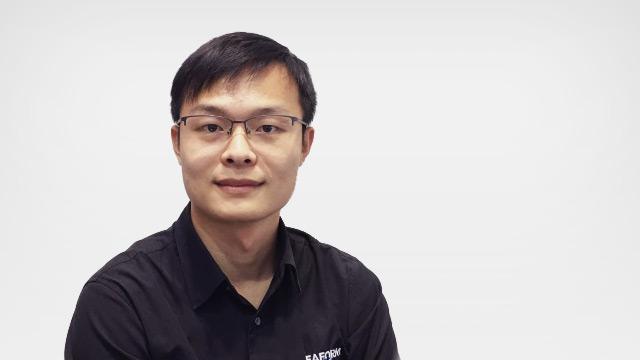 Whenever I am performing demos or product presentations, I always smile when I see the look of amazement on attendees' faces after I scan a product. They have a hard time believing in our solutions' power and performance—and think I've uploaded the data prior to the presentation. Then I scan my hand on the spot. All I hear afterwards is "Wooooow!" Now that's music to my ears! I am proud to be a part of the Creaform team!
Zhenjiang
Application Engineer
China
Think you have what it takes?