Account manager- Business Development
Creaform Inc. Levis office or Montréal office
   Creaform – Part of AMETEK Ultra Precision Technology Group – specializes in 3D portable optical measurement technologies and 3D engineering services. We offer innovative solutions that cover the entire range of 3D applications, including 3D scanning, reverse engineering, inspection, design & engineering and FEA. Our wide range of products and services are intended for industries such as the automotive, aerospace and defense, consumer products, education, heritage preservation, manufacturing, medical care and multimedia.For more information, visit www.creaform3d.com.  
The Account Manager we are looking for will combine business development, general project management, and customer satisfaction monitoring functions. He/she will participate in the development and deployment of strategies to develop and maintain the engineering department's client base. In close collaboration with operations, he will ensure that projects initiated with clients for which he is responsible meet agreed-upon deadlines, established costs and that the project scope is respected. Finally, he/she will act as the client's internal representative and will maintain constant contact with the client in order to maximize business opportunities.
Your projects will lead you to
- Participate and/or perform, in collaboration with the Business Development Manager, the necessary market analysis to determine the business potential (new and existing customers) for the Engineering Services Department; - Generate and track new opportunities; - Contact identified prospects to plan, coordinate, organize and conduct meetings to promote our engineering department; - Respond to the evolution of the different opportunities in progress; - Collect data to establish the evaluation of services; - Prepare and write bids for potential projects for existing clients; - Plan new projects, in collaboration with the team managers, while rigorously respecting the processes in place; - Synthesize client needs and communicate them to the technical teams in the form of specifications and share them during the project start-up meeting; - Use effective management tools (meeting summaries, follow-up lists, schedules, specifications, project charter, budget, etc.); - Identify resources assigned to projects and tasks in the time management solution (Ace Project); - If necessary, review time sheets or Ace Project reports to validate the time spent on projects. Participate in the monthly billing process; - Maintain a constant knowledge of the evolution of the projects in progress for the clients under his responsibility; - Perform post-project follow-up with clients (satisfaction measurement); - Contribute to business development to deploy strategic plans in the sectors of activity related to its existing customers; - Participate in the development of promotional tools in one or more strategic sectors (presentations, technical articles, newsletters, etc.); - Conduct visits to existing clients; - Carry out any other task related to his function, at the request of his superior.
Requirements
Are bilingual (English - French) both orally and in writing;
Have a university degree in mechanical engineering, electrical engineering, or other relevant technical field, or have experience in a related field;
Have 3 to 5 years of experience in engineering project management or project-based management;
Are available to travel on the job (30% of the time);
Have strong interpersonal skills;
Have a strong interest in sales;
Have a strong team spirit;
Are results oriented;
Are organized and structured and able to manage several files simultaneously;
Have a good capacity of adaptation
You earn points if you...
Know the main CAD software (CATIA, Pro-E, NX or Solidworks)
Know of one of the following fields: aeronautics, transportation, motorsports or manufacturing
In exchange, we offer you...
Flexible work schedule because we have your family at heart ;
Competitive salary and benefits ;
Vibrant, ambitious, stimulating and worldwide company;
A solid and unique work team;
The possibility to progress with a variety of projects;
Gym available for the employees;
Social activities, and much more!
Creaform offers career opportunities within a young dynamic team as well as the possibility to progress through multiple interesting and varied projects. We moreover provide a unique work environment, animated by a strong, dynamic team. Joining our team, also translates to many social activities, career opportunities and much more!
Consider applying even if your skillset is not a perfect match. We believe our individual background and experiences, paired with passion, can go a long way.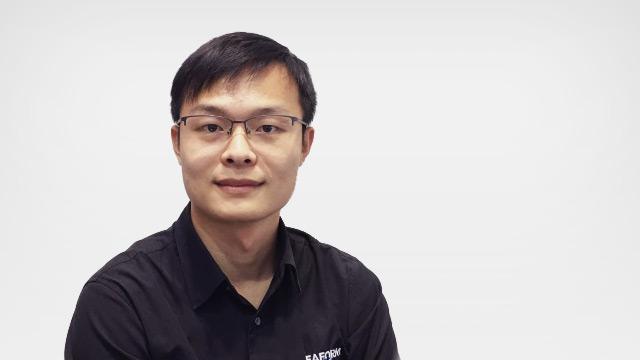 Whenever I am performing demos or product presentations, I always smile when I see the look of amazement on attendees' faces after I scan a product. They have a hard time believing in our solutions' power and performance—and think I've uploaded the data prior to the presentation. Then I scan my hand on the spot. All I hear afterwards is "Wooooow!" Now that's music to my ears! I am proud to be a part of the Creaform team!
Zhenjiang Qiao
Application Engineer
China
Think you have what it takes?