Administrative Sales Assistant
Completed
Creaform Inc. Levis office or Montréal office
We are Creaform Engineering, a Quebec-based specialist in complete engineering services, a fast-growing division of Creaform Inc. a world leader in 3D measurement technologies. With more than 20,000 projects under our belt since 2002, we have earned the reputation of being an essential ally for companies in many industrial sectors, such as transportation, recreational vehicles, aerospace, consumer goods and manufacturing. Our 170 employees work with passion and determination on projects of all sizes and complexities to ensure that our clients are always one step ahead. Experts in product design, industrial design, automation, dimensional management, numerical simulation and advanced surface modeling, we make sure to constantly improve the skills of our employees to remain the best. Joining Creaform Engineering means betting on engineering.
In this stimulating context, we are looking for a mechanical project manager whose main responsibility will be to design mechanical systems for heavy vehicle chassis and other projects. If you wish to take up new challenges and associate your talent with an experienced team, join us! We will have fun working together!
In this stimulating context, we are looking for an administrative assistant to participate and contribute to the sales and delivery process of client projects. If you are looking for a new challenge and want to join an experienced team, join us! We'll have fun working together!
You'll be responsible for
Coordinating the commercial aspect of the engineering mandates, from the order to the invoicing;
Encoding the project in the various tools required for project follow-up;
Coordinating monthly invoicing and follow up on accounts including the credit process;
Pre-qualifying customer requests for engineering services in support of the Business Development Manager;
Participating in the preparation of various reports and indicators (KPI) on a periodic basis;
Preparing bids for certain less complex mandates including order renewals, engineering changes or requests for additional work;
Working with the proposal team to update the content and presentation of the technical resumes of the engineering resources as well as the project sheets presented in the service offers;
Monitoring public tenders on a regular basis.
Following up with prospective clients following business events in collaboration with the sales team.
And to a lesser extent (less than 20% of your time):
Providing the necessary support to program managers for the preparation of bids and the drafting of various documents required for bids;
Responding to customers (existing or prospective) and/or redirect them to the appropriate people;
Maintaining and developing a customer service attitude at all times by establishing positive and professional relationships with customers;
Planning, coordinating and organizing customer meetings/visits or attend trade shows to support the sales team. (5%).
You will feel at home if you
Have a technical background in business management/administration or in a technical field (computer, mechanical, electrical, etc.);
Have already worked in sales coordination in a technical field (manufacturing or after-sales service) or in an advisory field (engineering, computer science, etc.);
Are fluent in French (speaking/writing) and English (writing);
Master the Office 365 suite (Word and Excel in particular);
Have an eye for detail and precision, and are organized and structured;
Know how to manage pressure and priorities on a daily basis;
Have a good team spirit;
Have a customer service oriented attitude;
Are adaptable and able to manage several files simultaneously.
You earn points if you...
Know the engineering business;
Have already used Salesforce (or other CRM);
Have worked with project management software
In exchange, we offer you...
Flexible work schedule because we have your family at heart ;
Competitive salary and benefits ;
Vibrant, ambitious, stimulating and worldwide company;
A solid and unique work team;
The possibility to progress with a variety of projects;
Gym available for the employees;
Social activities, and much more!
Consider applying even if your skillset is not a perfect match. We believe our individual background and experiences, paired with passion, can go a long way.
Make a spontaneous application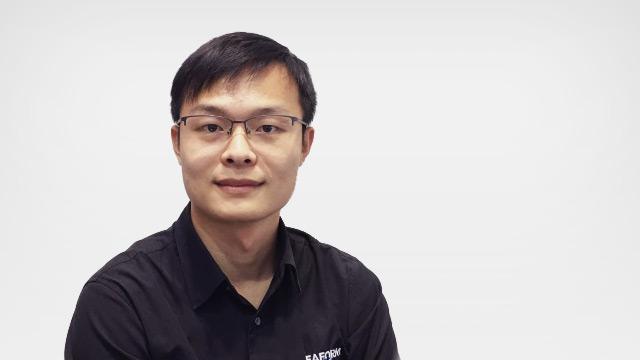 Whenever I am performing demos or product presentations, I always smile when I see the look of amazement on attendees' faces after I scan a product. They have a hard time believing in our solutions' power and performance—and think I've uploaded the data prior to the presentation. Then I scan my hand on the spot. All I hear afterwards is "Wooooow!" Now that's music to my ears! I am proud to be a part of the Creaform team!
Zhenjiang Qiao
Application Engineer
China
Think you have what it takes?