Canadian Regional Sales Manager
AMETEK® Surface Vision is the world leader in automated online surface inspection solutions. Our broad range of products is optimized to monitor and inspect webs and surfaces and process surveillance applications. The SmartView® and SmartAdvisor® product lines deliver robust, flexible solutions to continuous production processes across a wide number of industries, with more than 2,500 installations worldwide. Our systems have become vital to increasing efficiency, streamlining operations, monitoring and improving product quality, and reducing costs by improving productivity. AMETEK Land (Land Instruments) is the world's leading manufacturer of monitors and analyzers for industrial infrared non-contact temperature measurement, combustion efficiency and environmental pollutant emissions. AMETEK® Surface Vision and AMETEK Land are business units of AMETEK's Electronic Instruments Group (EIG), a worldwide leader in the design and manufacture of advanced analytical, test and measurement instrumentation for the energy, aerospace, power, research, medical and industrial markets. AMETEK® Surface Vision and AMETEK Land serve global market with teams and partners located worldwide. We are an equal opportunity employer and qualified applicants will be considered without regard to age, race, color, national origin, sexual orientation, disability, nationality, sex and religion.
Role and Responsabilities
Creafom is looking for the account of AMETEK Surface Vision a high performing, technical Canadian Regional Sales Manager to achieve ambitious revenue growth for the SmartView and SmartAdvisor brands across multiple vertical markets (paper, metals, etc.) in Canada. You will represent AMETEK Surface Vision solutions to our partners and customers to maximize sales revenue through all sales-oriented activities, including adding value to products, supporting sales promotions, and marketing activities. You will also manage sales channel for AMETEK Land and ensure revenue growth for this AMETEK business unit in Canada. In this direct CAPEX sales environment, the candidate will be responsible for working with local and global key accounts across multiple industries, uncovering market opportunities, and working closely with the different teams, including projects, service, marketing, products, etc. He will also have to manage relations with the AMETEK Land sales partners in the region, uncover market opportunities by supporting, recruiting and training authorized resellers to sell AMETEK Land products and services in their geographic region.
What a typical day with us looks like:
Make customer and partner visits, provide sales presentations for all AMETEK Surface Vision and AMETEK Land product lines, assisted by the pre-sales support team to technically qualify the customer's needs.
Use solution selling methodologies to sell the value of AMETEK Surface Vision to customers and partners alike.
Secure sustainable growth of the AMETEK Surface Vision and AMETEK Land businesses by taking share from direct competitors, finding profitable opportunities, etc.
Develop and execute a regional sales strategy that aligns with the overall businesses' objectives.
Drive sales forecast accuracy and funnel growth for both BUs.
Manage the organizations relationships with independent representatives, resellers, distributors or agents for AMETEK Land.
Implement the company's plan to manage pricing, margins and costs to maximize sales and profitability and facilitates the collection of unpaid or disputed invoices in conjunction with the accounts department.
Provide input to product management that helps define and quantify new markets, applications, and competition.
Our perfect match...
Has an extensive experience in CAPEX sales and managing resellers.
Has a Bachelor's Degree in engineering or natural science.
Has experience in some of the following areas: machine vision, surface inspection, web inspection, web monitoring, lighting and optics, quality control system, distributive control system, factory automation.
Has experience in paper, metals, nonwovens or plastic industry.
Is perfectly fluent in both French and English, written and spoken.
Has excellent communication and negotiation skills.
Is able to translate technical product information into strong customer value propositions.
Has excellent ability to influence and persuade all levels of the organization, including executive and C-level.
Is positive and passionate about sales and customer relationships.
Is able to work in a fast-paced environment.
Is available to travel 40~60% of the time.
Also: The candidate must be comfortable operating in a digital environment; this should include undertaking customer meetings and presentations via Microsoft Teams, using online prospecting tools (e.g. LinkedIn Sales Navigator), supporting virtual tradeshows/conferences, and proactively supporting digital marketing initiatives on a variety of platforms. Additionally, the candidate will need to be familiar with a CRM tools such as SalesForce and other Microsoft Office tools (Word, Excel, PowerPoint, etc.).
Consider applying even if your skillset is not a perfect match. We believe our individual background and experiences, paired with passion, can go a long way.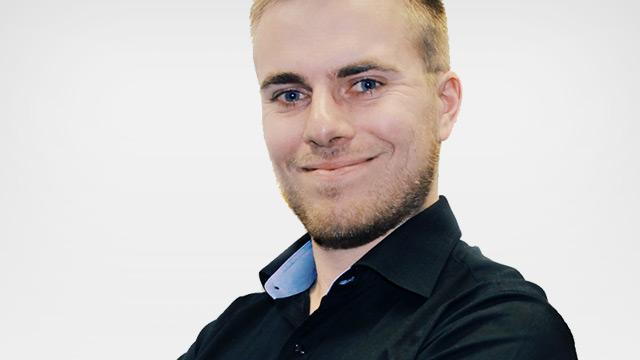 Creaform is all about innovation, which allows me to use my imagination on a daily basis. No idea is too big or eccentric. The company is growing at such an incredible pace that there are many opportunities for advancement. It's a great place to jumpstart your career!
Vincent Lafond
Repair Centers and Engineering Changes coordinator
Canada
Think you have what it takes?