Technical support Agent, Customer service
Completed
USA (Houston, TX) (Hidden)
Customer services - metrology
You want to work for an international company with a worldwide reputation?
This is the perfect opportunity! Creaform needs you and your organizational skills to providing technical and administrative support for annual calibration, return, repair & other serviceability requests for our North America customers.
You will also ensure the follow-up and progress of these files in order to offer an outstanding customer experience.
Jocelyn, your future manager, is known for his organization and his ability to listen. He has been working for Creaform for nearly 15 years. He started as an application engineer and then moved on to management positions.
To succeed and progress in your career, Jocelyn will accompany you with :
An excellent welcome and an efficient integration process;
Access to continuous training;
Support to ensure your development.
Here is what we offer you :
Diversity and complexity of projects in a multitude of industries;
Ongoing training to support your career progression;
Recognition of your ideas, regardless of your level of education or position;
A caring environment that encourages personal and professional growth;
Diversity and inclusion: there is no one-size-fits-all thinking;
Wide range of benefits: competitive salary, group insurance, RRSP with employer contribution, competitive vacation policy, employee and family assistance program, telemedicine, flexible working conditions.
We work hard, but we have a lot of fun! We have fun with sports, parties, themed events and more.
What does a typical project look like on your new team?
In collaboration with the Support Experts and Specialists colleagues, provide support and technical solutions to technology and software user
Administrate all annual calibration support cases for the North America regions;

Strive to improve processes and procedures for areas of responsibility;
Welcome new customers and resellers via phone onboarding and web access requests;
Generate quotes/orders in the CRM timely and work closely with colleagues to process them in the ERP;
Provide first level support to customers through phone & email;
Manage the return of defective equipment for repair or replacement;
Support the Customer Service department with Logistic duties in Houston;

Prepare shipping documentation, coordinate pickups and receiving for Support and Metrology service activities (offsite demonstration, service work, training, rentals & loaners);
Manage annual calibrations of the Demo/Loaner fleet in Houston and Irvine;
Prepare loaner orders & execute functionality tests when loaners are returned;
Communicate with Canada/USA/Mexico logistic centers to solve logistics issues;
Some aspects that will facilitate your integration at Creaform :
You have a strong interest in customer service;
You are organized and have an eye for detail;
You speak English and Spanish fluently;
You master a computer operating system (Excel) and you know a CRM (Salesforce).
Creaform – Part of AMETEK Ultra Precision Technology Group – specializes in 3D portable optical measurement technologies and 3D engineering services. We offer innovative solutions that cover the entire range of 3D applications, including 3D scanning, reverse engineering, inspection, design & engineering and FEA. Our wide range of products and services are intended for industries such as the automotive, aerospace and defense, consumer products, education, heritage preservation, manufacturing, medical care and multimedia. For more information, visit www.creaform3d.com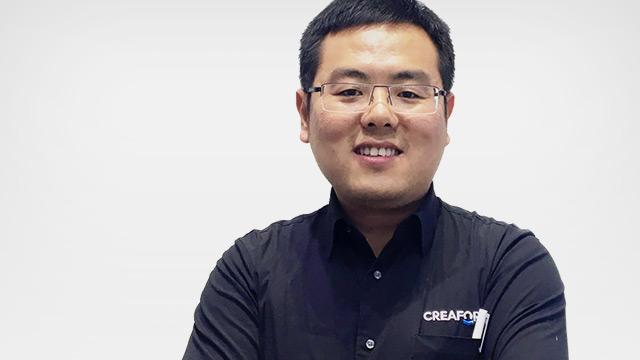 Creaform is the ideal place for people who love challenges and who want to take their talent to a whole new level. From reverse engineering to quality control to education and R&D, the company offers rewarding and enriching experiences you simply cannot get anywhere else.
Robert
Regional Manager
China
Think you have what it takes?