Technical Support Specialist (m/f/d)
You live in the Grenoble area? Are you a passionate go-getter who takes great pride in putting your experience to work for your team so that it can shine with success and achievement? Come join us with your enthusiasm and expertise!
We are looking for : The perfect candidate for the position of Customer Support Technical Specialist in the Customer Services department. The main responsibility of this position is to provide technical support to customers, distribution networks and internal users of the technologies and software developed and sold by Creaform. The Creaform Support team also participates in the quality assurance of the software developed by Creaform as well as in the renewal of the maintenance.
You want to know more? Read on, then apply! We should have fun working together!
In this role, you'll get to:
Providing technical support and solutions to technology and software users;
Performing remote troubleshooting;
Answering user questions;
Managing the return of defective equipment for repair or replacement;
Report improvement opportunities as well as software and hardware quality issues to product experts.
Contribute to the development of customer service sales.
You will feel at home if:
Have a bachelor's degree in computer science or in physical/electrical/mechanical engineering technology, or relevant experience.
Are trilingual (French, German and English).
Have good communication skills and experience in customer service;
Be autonomous, organized and resourceful;
Analytical, problem solving and decision making skills.
You earn points if you:

Have knowledge of metrology.
Have an interest in sales and customer service.
In exchange we offer you :
Location: Grenoble, France;
Flexible work schedule;
Competitive salary and benefits;
Dynamic, stimulating and open to the world.
Founded in 2002 in Levis (Quebec, Canada), Creaform has been established in France (Grenoble) since 2005 and is a world leader in 3D measurement technologies and 3D engineering services. We develop, manufacture and distribute portable and automated 3D solutions for thousands of customers in over 85 countries. Our innovative technology benefits many industries, such as aerospace, automotive, manufacturing, consumer products, research and education, non-destructive testing (NDT), heavy industry and power generation.
As a subsidiary of AMETEK Inc, a leading global manufacturer of electronic instruments and electromechanical devices, Creaform is recognized internationally for its cutting-edge technologies and R&D excellence. Although we are developing our market on a global scale, our work environment preserves the entrepreneurial spirit and dynamism of a start-up company.
Convinced that our ability to innovate endlessly is fueled by the diversity and the right to be different of our employees, and determined to establish and maintain a diversified and representative workforce, Creaform fully subscribes to the principle of employment equity. In particular, we are committed to providing equal employment opportunities in accordance with the provisions of the Quebec Charter of Human Rights and Freedoms and the Canadian Charter of Rights and Freedoms.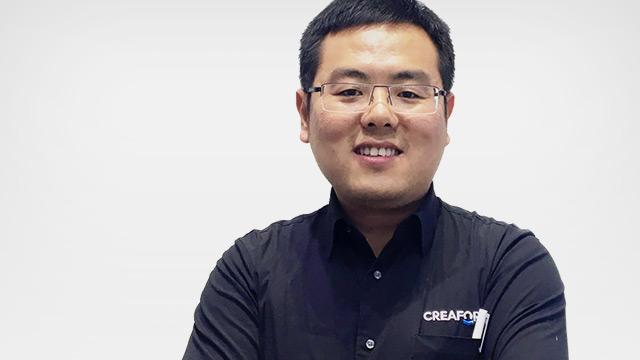 Creaform is the ideal place for people who love challenges and who want to take their talent to a whole new level. From reverse engineering to quality control to education and R&D, the company offers rewarding and enriching experiences you simply cannot get anywhere else.
Robert Wang
Regional Manager
China
Think you have what it takes?